VirtoSoftware is a professional SharePoint and Office365-oriented software development company, who designs and develops innovative and modern SharePoint web parts and Office 365 apps, provides consulting on SharePoint and Office 365, performs custom development and training services for these platforms. VirtoSoftware's current comprehensive product portfolio includes calendaring, alerting, collaboration, workflow and administration web parts and apps for SharePoint and Office 365 users.
What is Virto One License?
Get access to products that make your SharePoint environment user-friendly and let non-technical users solve problems in number of areas:
File management & sharing
Content management
Security
Workflows & Process management
Time management
Resources & Project management
Collaboration
All that and within just ONE solution – simple like that.
Virto ONE allows managers and employees of the company to solve their practical problems as quickly and independently as possible, without long approval processes and waiting for administrators to implement the solution. All tools are already available for use at the moment when they become necessary.
Virto ONE doesn't only give you agility and saves employees' time; it costs you several times less than buying such set of solutions separately.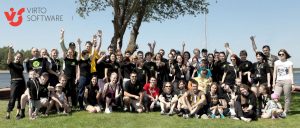 Why choose Virto One License?
700+ clients
More than 700 clients choose Virto ONE after long cooperation with us. We have many positive reviews from our clients and it's very important for us.
Convenience
A single purchase of a 1-year subscription valid for all 30+ SharePoint components, including free upgrades, migration, and future releases of VirtoSoftware.
Premium conditions
Enjoy the advantage of a direct access to our software development team that can build new web parts according to your requirements and specific business processes.
Good deal
As Virto ONE License purchaser you get all SharePoint Web Parts completed with top-priority support and product update in the cource of year at a fantastic price!
About VirtoSoftware
VirtoSoftware is a professional team who designs and builds innovative SharePoint web parts and Office 365 apps. It's compiled using the best technologies. Since our first launch in April, 2009, we have grown exponentially and now our current comprehensive lineup includes calendaring, alerting, collaboration, workflow and administration capabilities for SharePoint users.
Thousands of users around the world, including Fortune 500 companies, use our products to simplify and achieve the task on hand. Our high quality products and services, as well as experience and competence are confirmed by our achievement of the Microsoft Gold Certified Partner Status for ISV solutions. Microsoft Gold Certified Partners that have obtained these competencies have a successful track record of developing and marketing packaged software based on Microsoft technologies.
Software Sources Ltd. is VirtoSoftware's Reseller.