Veeam Management Suite
Leverage and protect your investments in VMware
The Veeam Management Suite is a set of industry-leading solutions for VMware backup and management, designed to provide significant cost savings, increase administrator productivity, and mitigate daily management risks for VMware deployments of all sizes. This cost-effective solution will help you automate routine processes of VMware management and gain complete control over your virtual infrastructure.
The Veeam Management Suite includes the following solutions to support your business needs as your environment grows over time: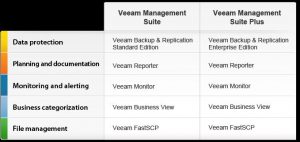 What's Inside?
Veeam Management Suite includes five products to support your business needs and effectively manage your VMware environment:
• Veeam Backup & Replication™ leverages VMware vSphere technology to provide fast, flexible, affordable and reliable data protection for all your VMs.
• Veeam Reporter™ allows you to automate documentation, track changes, identify under – or overutilized resources, and restore configuration settings, providing the detailed reports you need to control your virtual environment.
• Veeam Monitor™ provides 24×7 monitoring and alerting and a comprehensive, performance-oriented view of your virtual infrastructure that complements vCenter Server.
• Veeam Business View™ works with other Veeam products to provide business categorization of your VMware environment, with the ability to group, view and manage VMs by business unit, department, location, service level, or any criteria you define.
• Veeam FastSCP™ provides a fast, secure and easy way to manage files and bulk copy VMs across your VMware ESX(i) environment, including copying files from ESX(i) to Windows, from Windows to ESX(i), and directly from ESX(i) to ESX(i).
• VMware + Veeam =
Virtualization that's affordable and easy to manage
Veeam understands that small and remote office VMware deployments need reliable, cost-effective management tools that are packed with innovative features at an affordable price. That's why we offer the Veeam Essentials bundle – the perfect companion to VMware vSphere Essentials that includes our most popular products for small businesses at a 62% savings.
With VMware vSphere Essentials and Veeam Essentials, you can deploy, manage and protect an enterprise-class virtual infrastructure at an affordable price. The powerful combination addresses the needs of small IT organizations to provide:
• Enterprise-class capabilities on a budget
• Streamlined deployment and operations
• High value at a low price
Read the datasheet
• Veeam Backup & Replication
Image-based backup for VMware
Product Datasheet
• Veeam ONE
VMware monitoring, capacity planning, change management, reporting and chargeback
Product Datasheet
• Veeam Reporter
VMware reporting and planning
Product Datasheet
• Veeam Monitor
VMware monitoring, alerting and troubleshooting
Product Datasheet
• nworks Management Pack for VMware 
VMware monitoring with Microsoft System Center
Product Datasheet
• nworks Smart Plug-in for VMware
VMware monitoring with HP Operations Manager
Product Datasheet
• Veeam Business View 
Take a business view of your VMware vSphere
Product Datasheet
• Veeam FastSCP
More than 6 times faster than SCP
Product Datasheet