TeamViewer
Remote support, remote access, and online meeting software that the world relies on – 1 billion installations and 20+ million devices online at any time.
• Save time and money
Support, assist, interact, and collaborate with people. Exchange information. Access and use technology. One tool makes it possible to work as if you were all in the same room without travel time and expenses.
With TeamViewer, you have everything you need right in front of you.
• Focus on your work, not getting it to work
Solve issues remotely or bring customers and colleagues together without complex steps or onerous prep time.
TeamViewer is designed to get you working in seconds on any device.
• Secure and powerful
TeamViewer enables you to do what you want without any hassle and without any worries.
Private data, private conversations, and private meetings stay that way.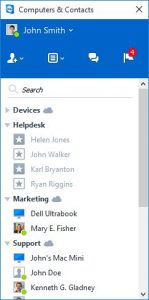 • Remote Support: the #1 software
TeamViewer is the choice for 90% of the Fortune 500 and #1 according to IDC.
• Remote Access: simple and secure
Quickly and securely connect to devices all over the world without the need for a VPN.
• Meetings: any time, anywhere
TeamViewer is the catalyst to enable and amplify ideas and bring people together.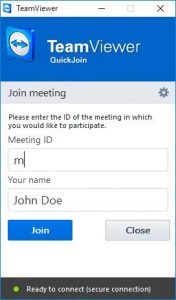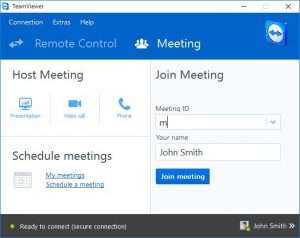 TeamViewer's Features 
• Multi-platform
Cross-platform PC to PC, mobile to PC, and PC to mobile connections that support Windows, Mac OS, Linux, Chrome OS, iOS, Android, Windows App, and BlackBerry.
• No configuration
Start and use TeamViewer instantly. TeamViewer even works behind firewalls and automatically detects any proxy configuration.
• High performance
Intelligent connection and routing, efficient use of bandwidth, fast data transmissions, and automatic quality adjustments ensure an optimized user experience.
• International
TeamViewer is available in more than 30 languages and supports international keyboards, which makes it an ideal solution for international use.
• Maximum compatibility
TeamViewer runs on a broad spectrum of operating systems ranging from state-of-the-art system software to older operating systems.
• Easy to understand
Enjoy a state-of-the-art user interface that is clearly arranged, simple, touch-friendly, and quick to operate.
• High security
TeamViewer utilizes RSA 2048 public/private key exchange, AES (256 bit) session encryption end to end, random passwords for one-time access, optional two-factor authentication, and access controls via black- and whitelists.
• Free for testing and personal use
Test TeamViewer for free, without having to provide any personal information. Also, use the software at home for personal use free of charge.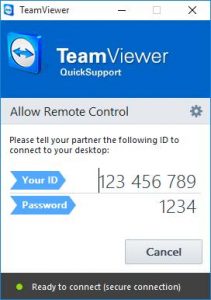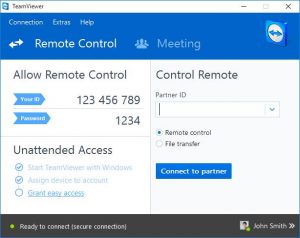 Our other products in the TeamViewer family
ITbrain by TeamViewer
Simple and professional IT management
Ensure the stability and security of your IT infrastructure. Conveniently integrated into your TeamViewer experience, ITbrain protects and monitors your remote devices in order to stay one step ahead of potential problems.

airbackup by TeamViewer
For reliable data backup
airbackup is a secure, online backup solution by TeamViewer. It provides the features businesses want and includes unlimited devices in each available plan. The centralized dashboard not only supplies the control IT managers need, but rounds off the comfort of the solution as well.

Monitis by TeamViewer
Total visibility over your IT system
Monitis, a TeamViewer company, specializes in website, application, and network monitoring services and is the perfect solution for business leaders, IT experts, and service providers who need to stay in control of their IT systems.