PDF Tools
The 3-Heights™ Document Converter is a company-wide solution for converting all popular file formats to PDF, PDF/A and TIFF. It addresses various requirements in the field of conversion, in particular:
• Making documents archivable (especially MS Office documents)
• Migrating existing archives
• Exchanging documents
• Fulfilling standards (ISO) and security requirements
• Archiving websites
• Archiving email
• Standardizing the variety of formats across the corporation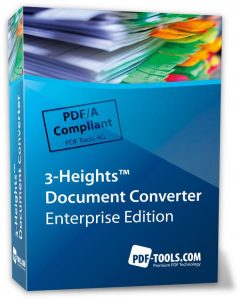 The 3-Heights™ Image to PDF Converter component converts raster images such as TIFF, JPM and JPEG to PDF/A and PDF documents. Typical applications include:
• Conversion of scanned documents to PDF/A documents
• Migration of a TIFF archive to PDF/A
• Conversion of image files into searchable PDF/A files
• Conversion of fax files to PDF/A with optional OCR recognition
The Image to PDF Converter is used to convert raster images into a standardized format, for instance for electronic archiving or electronic data exchange.
It is also possible to integrate metadata from external sources during the conversion process. An optional OCR add-on is available to create searchable output files.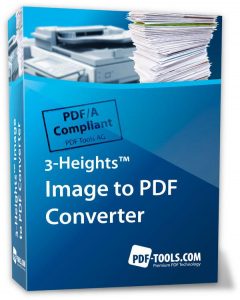 The 3-Heights™ PDF Analysis & Repair component detects and repairs corrupted PDF documents in automated processing procedures. It repairs defective or illegible PDF documents or restores them as far as possible.
Incorrect PDF creation or manipulation, faulty FTP transfers, system crashes during creation, network interruptions or incomplete copying can all render PDF documents illegible.
This can result in the loss of important data and, as a consequence, the loss of information or production downtimes.
The 3-Heights™ PDF Analysis & Repair component analyses PDF documents with regard to PDF specifications and repairs them where indicated. It extracts legible content such as images or page fragments from irreparable documents and saves the data as a new document.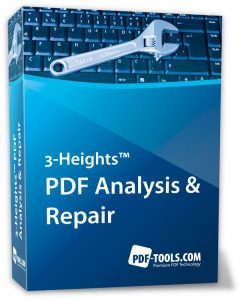 The 3-Heights™ PDF Optimization component serves the purpose of optimizing PDF documents specifically in preparation for certain applications such as web-based publication, data exchange or printing.
Web-based publication calls for lean files optimized for screen display, whose first page is displayed
even before the complete file has been downloaded.
The priorities in the pre-press stage focus on sufficient resolution of images and color quantity optimization.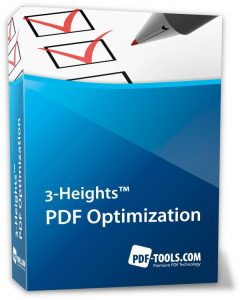 The 3-Heights™ PDF Printer is a compact component for printing PDF documents.
PDF documents are used in many areas of business and need to fulfill differing demands with regard to printing. These include a high throughput rate, high visual fidelity even with complex documents, PDF/A-compliant printing, printing on paper or in print datastreams such as PS, PCL and XPS.
The component is characterized by high performance and ease of integration. It is available in three versions: as an API designed for programmatically controllable printing, as shell for uncomplicated mass printing and as a service for automated printing in the background.
The PDF Printer component has a wide range of options for print control and can print raster images such as TIFF.
The 3-Heights™ PDF Security component offers comprehensive functionality in two independent yet combinable areas: Electronic signatures and encryption.
Electronic Signatures
Applying an electronic signature guarantees the authenticity and integrity of documents, both of which are important requirements in electronic data exchange. Depending on the characteristics of the signature and the country it is used in, an electronic signature can be equivalent to signing a document by hand. Electronic signatures offer advantages with regard to the speed, security and automation of business correspondence.
The 3-Heights™ PDF Security component is able to apply various types of electronic signature (simple, advanced and qualified). The component's benefits include PDF/A conformity, embedding information on the validity of certificates (OCSP, CRL), time stamps and compatibility with signature hardware (HSM) for mass signature applications. The component can verify existing signatures by checking their integrity.
Encryption
PDF documents used in professional circumstances contain important information that needs to be protected against unauthorized access and unintentional alteration. This is achieved by protecting PDF documents through encryption and user permission flags.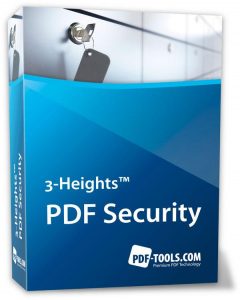 The 3-Heights™ PDF to Image Converter is a component for converting PDF documents into single page or multi-page raster images such as TIFF or JPEG. Alternatively, it can rasterize PDF documents and save them back as PDFs.
Its areas of use include the web, TIFF-based DMS solutions, archive and workflow systems and the protection of PDF documents. The Converter is characterized by its high speed, scalability and high visual fidelity.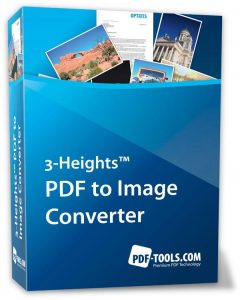 The 3-Heights™ PDF to PDF/A Converter is a component for converting PDF documents into the PDF/A format for long-term archiving.
The tool analyzes and converts the input document, applying a digital signature where required.
This component is both robust and scalable, making it suitable for integration in various processes such as standardization, quality assurance and archive migration.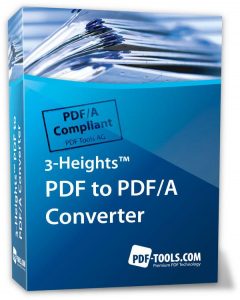 The 3-Heights™ PDF Validator safeguards the quality of PDF documents and the processes that create them. Documents are checked for compliance with the ISO standards for PDF and PDF/A documents.
PDF is a widespread format; it is therefore important that interoperability is ensured. Documents containing information of relevance to business or intended for archiving, in particular, need to be validated with regard to their correctness and long-term legibility. This is precisely what the Validator does, whether for a single document or an entire batch.
Incoming validation includes:
• Verification of documents with regard to compliance with the PDF and PDF/A standard
• Creation of validation reports
• Classification of compliant and non-compliant documents
• Ensure compliance with corporate directives (Corporate Identity, restrictions to PDF software with regard to creation and processing, etc.)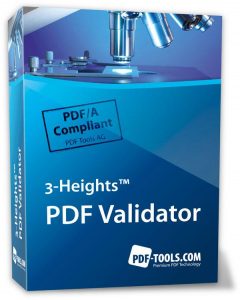 The 3-Heights™ PDF Viewer is a compact and sophisticated component for viewing PDF documents. It supports raster images such as TIFF and JPEG in addition to PDF and provides an option to print the document on display.
The PDF Viewer component allows the creation of applications that offer the user restricted functionality only. This can be used to suppress saving or printing, for instance.
The component is also available as OCX. It can be integrated in many types of application such as rich clients and web applications.
The Viewer is designed for professional use where its highly developed technology can realize its full potential. In addition to characteristics such as high visual fidelity and support for documents in any language the Viewer also displays documents PDF/A-compliant.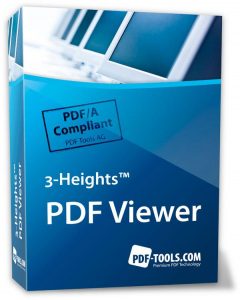 PDF Command Line Suite is a set of programs for the command line that process PDF documents individually and in batch mode.
It enables you to process PDF documents easily without any programming effort on various operating systems.
Typical processing steps include merging and splitting PDF documents, creating bookmarks, extracting text or applying a company logo. It also performs tasks such as assembling or personalizing PDF documents and form filling.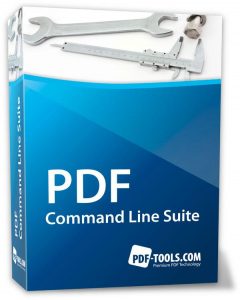 The PDF Prep Tool Suite is a programming library for creating, splitting and merging PDF documents. It can be used to add content such as text, images and vector graphics. Interactive elements such as links, form fields and bookmarks can be added and processed.
The component is used for the following tasks:
• Assemble PDF documents
• Personalize documents
• Fill in form fields
PDF documents can be created from scratch – for instance on the basis of a template to which data is added from a source such as a database.
Properties such as position, font, size and color are freely selectable. Once created, PDF documents can be encrypted and optimized for fast web-based viewing.