NetMechanica
NetDecision Network Manager   
Network Manager allows you to perform SNMP/ICMP monitoring of IP network including SNMP polling, SNMP traps receiving. It displays your network as multi-level graphical network topology (hierarchy).

NetDecision TrapVision
TrapVision is an SNMP trap management and distribution application, which allows users to receive, visualize and handle SNMP traps in various ways. Due to its flexible trap handling capabilities, TrapVision can be used together with other network management applications to provide distributed and structured trap handling. TrapVision supports SNMPv1, SNMPv2c and SNMPv3 TRAP messages and SNMPv2c and SNMPv3 INFORMs.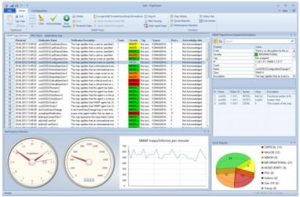 NetDecision Script Studio
Script Studio is a complete script management tool that provides the user with convenient development environment. The script language incorporates network management related functions as well as other utilities. The user can organize scripts in folders based on some criteria. There is a powerful schedule management that allows the user to execute the script at the specified time. It is allowed to execute multiple scripts simultaneously.
NetDecision MIB Browser
The MIB Browser is a powerful SNMP MIB Browser that enables loading of any MIB files (both standard and vendor specific), performing SNMP walk and all other SNMP related operations (GET, GET-NEXT, GET-BULK, SET). The Browser has modern MS Office like ribbon-based graphical user interface. It works with SNMP tables the same way as Excel spreadsheets. The MIB Browser is also capable of polling and displaying MIB values on charts.
NetDecision Trap Simulator
Trap Simulator is a utility, which is used to send SNMP traps and informs (SNMPv1 TRAPs, SNMPv2 TRAPs, INFORMs). This utility is very useful on development stage of your network management system.
NetDecision LogVision
LogVision is a general purpose log mediation application that allows users to receive, visualize and handle syslog and Windows event log messages in various ways. Due to its flexible message handling capabilities, LogVision can be used together with other network management applications to provide distributed and structured log handling.
NetDecision Smart Agent
The NetDecision SNMP Agent enables monitoring of any non-SNMP/non-networked equipment or system and provides remote access to such devices/systems via SNMP. The Smart Agent supports any SMIv1 or SMIv2 compliant MIB files as well as full set of SNMPv1, SNMPv2, and SNMPv3 operations (Get / Get-Next / Get-Bulk / Set / Traps / Notifications).
The NetDecision Smart Agent can be used to simulate SNMP agents for testing and demonstration purposes.
NetDecision Anywhere LaunchPad
NetDecision network management system supports large-scale high-performance architectures through multi-host distributed architectures. NetDecision Anywhere LaunchPad provides powerfull capabilities to perform massive deployment of NetDecision agents and subsystems such as TrapVision, LogVision across distributed hosts/nodes.
NetDecision Performance Vision
Performance Vision monitors network and bandwidth usage as well as various other network parameters like memory usage and CPU utilization, providing system administrators with live and historical data.
NetFlow Trace tool
NetFlow Trace tool is an application that performs in-depth NetFlow/IPFIX/sFlow packets analysis. The application supports the following protocols (formats): NetFlow v1,v5,v7,v8,v9, sFlow v2,v4,v5