What is MAXQDA?
Collect – Transcribe – Organize – Analyze – Visualize – Publish
MAXQDA is a world-leading software package for qualitative and mixed methods research and the only leading QDA software to offer identical features on Windows and Mac. It is one of the most comprehensive programs in the field and is used by thousands of researchers in more than 150 countries around the world.
Use MAXQDA for any type of qualitative research – including but not limited to grounded theory, literature reviews, exploratory market research, qualitative text analyses, and mixed methods approaches.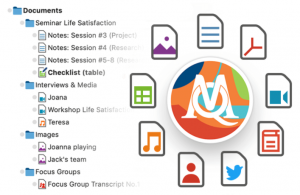 MAXQDA Standard
Advanced qualitative & mixed methods research for Windows and Mac. Comprehensive qualitative data analysis for researchers working with diverse data sets. MAXQDA Standard works with a wide range of data types and offers powerful tools for advanced coding, retrieval, transcription and visualization, while still being easy to learn and use.
Wide Range of Data
Use MAXQDA Standard to manage your entire research project. Import data from interviews, focus groups, online surveys, web pages, images, audio and video files, spreadsheets, bibliographical data and even YouTube comments and Twitter tweets easily.
Organize your material in groups, link relevant quotes to each other, and share and compare work with other members of your team. Your project is always flexible and your code system can be expanded or refined, just like your research.
Code and Retrieve
Mark important information in your data with different codes by using regular codes, colors, symbols, or emoticons. Code quickly via drag & drop or with automatic coding for search words and organize your thoughts and theories in memos that can be stuck to any element of your project.
Retrieve coded segments quickly and efficiently with just one click, or make use of powerful search tools to test and develop new theories.
Memos
Great ideas often come up when you're reading and coding your data. Memos are the perfect place to keep them. Choose from 11 different icons to mark your memos. The unique MAXQDA memo manager and a lexical search function guarantee immediate access to every single memo at any time. Memos are also great for creating audit trails or paraphrasing passages into your own words.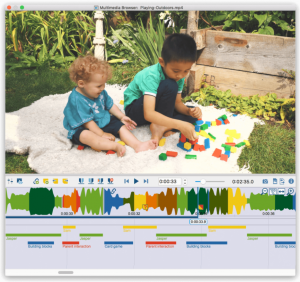 MAXQDA Plus
KWIC, vocabulary & dictionary based analysis Desktop-based for Windows & Mac. MAXQDA Plus adds the MAXDictio module to the advanced qualitative analysis features of MAXQDA Standard. The MAXDictio module enables researchers to facilitate a vast range of procedures for quantitative content analysis. Included are tools for visual text exploration, content analysis, vocabulary analysis, dictionary based analysis and more.
Visual Text Exploration
Whether you are analyzing a single speech or an entire bookshelf: MAXDictio in MAXQDA Plus allows you to explore the content and structure of your texts without needing to read or code a single sentence in advance.
Take our Interactive Wordtree for example: It visualizes all the combinations that lead to or from any word of your choice, including a detailed display of frequencies.
This incredibly powerful feature can provide new and fascinating perspectives even on texts you know well and allows for a comprehensive overview of those you don't.
Content analysis: From single words…
Whatever your style of research or unit of analysis: MAXDictio provides the tools to suit your needs.
Are you interested in the use of certain terms in your material?
Use the "Keyword-in-context" feature to display all word locations and their (freely definable) context in an interactive result table. One click is all you need to jump to the original passage in your document browser.
… to entire word combinations
Or you can check out the frequencies, ranks and distribution of word combinations and filter them according to your own interests. The advanced options allow for lemmatization (summarizing words that share the same stem), the use of stop lists, the dissection of your material in conjunction with variables or codes, and much more.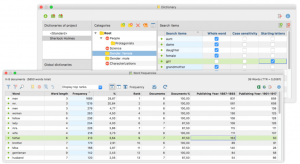 MAXQDA Analytics Pro – Introducing 'Stats' Module
Statistical analysis meets qualitative research – Desktop-based for Windows & Mac. MAXQDA Analytics Pro equips you with a large range of tools for statistical analysis. Seamlessly quantify your qualitative data and enrich your analysis with evidence and plausibility. Statistically analyze your qualitative data in MAXQDA or import and connect your data with data sets in the Excel or SPSS format.
Data Compatibility
Use the Stats module to run statistical calculations with your MAXQDA project data. Statistically analyze code frequencies across documents and create new data groups in your qualitative project based on statistical results.
Include all parts for your data or use activation to limit the analysis to specific documents and codes in MAXQDA Analytics Pro. You can also work with Excel or SPSS data sets – just like you would in any other statistics software package.
Descriptive Statistics
Create basic charts to compare frequency and percentages for variables or codes. Frequency tables are interactive – remove and merge columns or rows with automatic recalculation of percentages. Create customizable charts and diagrams for your results and copy to output viewer or directly to your reports and presentations.
Calculate descriptive statistics including mean, standard deviation, variance, quartiles, median and range.
Compare Groups
There is a wide variety of methods to explore relationships between two or more variables in MAXQDA Analytics Pro. Crosstabs are one of the basics that no statistics program can do without: they're easy to customize and can provide valuable insights for everyone – not just statisticians. Highlighting options make the interpretation of results quick and easy.
If you're looking for something more advanced, you can also compare the effect of a factor on different groups with an analysis of variance (ANOVA).
Software Sources Ltd. is MAXQDA's Reseller.