Incredibuild
A simple and speedy way to accelerate builds, compilations, and development processes up 30x faster or more.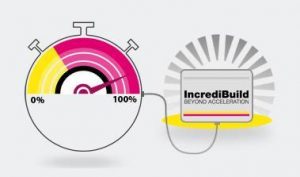 With IncrediBuild's unique parallel processing solution, you can easily achieve dramatically faster builds. IncrediBuild turns your network into a virtual supercomputer, harnessing idle CPU cycles from remote machines even while they're in use. There's no changes to source code, and absolutely no additional hardware required. It's no wonder why IncrediBuild is trusted by over 100,000 users in more than 2000 organizations for build and application acceleration.
IncrediBuild-XGE – Application Acceleration Platform
ISVs and OEMs: Want to take your products to a new level of performance?
Based on our award-winning IncrediBuild technology, IncrediBuild-XGE offers a revolutionary new approach to application acceleration that can accelerate your own products up to 30x faster or even more.
Slash processing time & offer enhanced value to your customers
IncrediBuild-XGE acceleration technology can now be embedded in your own applications for dramatically faster results. Lengthy simulations, rendering tasks and time-intensive processes are processed in parallel, slashing wait time from hours to minutes.