Comprehensive document processing tools
The Apryse Developer Suite and low code solutions allow developers, enterprises and small businesses alike to create, edit, and convert digital documents in their applications or company workflow.
Xodo
Try easy-to-use PDF tools that keep your documents safe. Securely view, edit, and transform your important files across all platforms and devices with the ultimate all-in-one document solution.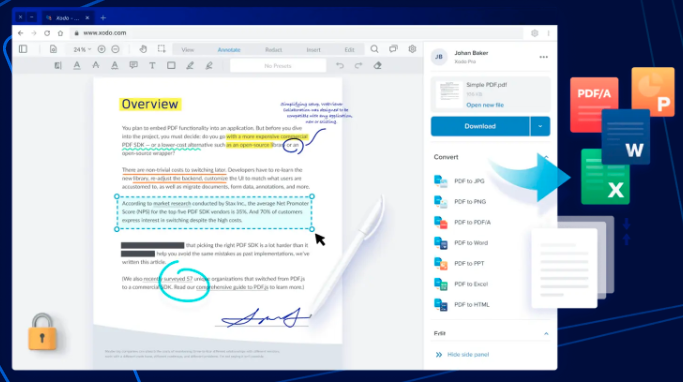 Your Productivity Lives at Xodo
Try easy-to-use PDF tools that keep your documents safe
Securely view, annotate, and work with your important files across all platforms and devices with the ultimate all-in-one document solution.
Get the most out of your files with Xodo
View, edit, annotate your PDFs
You can quickly take notes, highlight and annotate your document all while having the best viewing experience.
Convert your documents
Choose from a long list of powerful conversion tools where you can quickly convert multiple documents at a time.
Edit, crop, merge and much more
Use our PDF manipulation capabilities which let you crop, merge and delete pages from your PDF.
Fill in all your PDF forms right here
Leave the pen behind. Create, fill in and sign all your forms using our intuitive, easy-to-use tools.
A powerful e-signature solution
Xodo Sign's electronic signature solution lets you securely share, approve, deliver and sign documents online easily and in seconds.
Why choose Xodo?
Xodo technology is built by the industry leader in document technology, Apryse, using its technology that powers trailblazing secure document applications in the productivity space.
Becoming a Xodo Pro user is your ticket to access world-class unlimited tools and actions!
Fluent: Powerful Document Generation
Manage the full document generation life cycle from template creation in Microsoft Word, Excel, or PowerPoint, to management and production within a self-hosted environment. Empower your developers to rapidly create, manage, and deliver well-formatted reports in high volume with significantly reduced effort.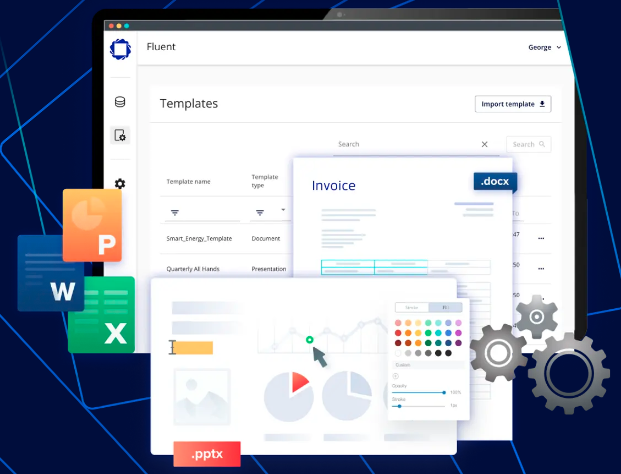 EVERY BUSINESS WORKS WITH DOCUMENTS, AUTOMATE AS MANY AS YOU CAN WITH FLUENT
Create beautiful templates with complex logic for the full suite of documents, reports, and presentations that you rely on
FAST & EFFICIENT
Plug the most powerful document generation engine into your own environment. Reliably generate your business-critical documents at any scale with no time lost.
ADVANCED FORMATTING
Charts, graphs, table of contents, page orientations, and conditional formatting to your heart's desire. No more compromises on style
LOW MAINTENANCE
Any permitted user with experience in Word, Excel, or PowerPoint can easily update a template. Make changes without relying on your developers' availability
MS OFFICE DESIGNER ADD-ON
Author templates natively in Microsoft Word, PowerPoint, or Excel using the Fluent designer add-on. Merge data using complex conditions to reports, statements, agreements, and more.
CENTRALIZED TEMPLATE MANAGER
Store your templates together to manage access, status, and production. Jump into a template to make quick and easy changes.
DOCUMENT AUTOMATION ENGINE
Deploy this flexible, self-hosted engine in one or multiple environments. Automate the production of millions of documents while managing your server load using the template manager.
WebViewer: JavaScript Document SDK
Compatible with all frameworks and browsers, WebViewer delivers the highest quality rendering, conversion, and document manipulation capabilities through a single, customizable component. WebViewer expands what is possible by supporting PDF, Office, CAD, images, videos and websites. Fully featured out of the box, WebViewer's UI is trusted by thousands of customers, delivering exceptional usability and functionality.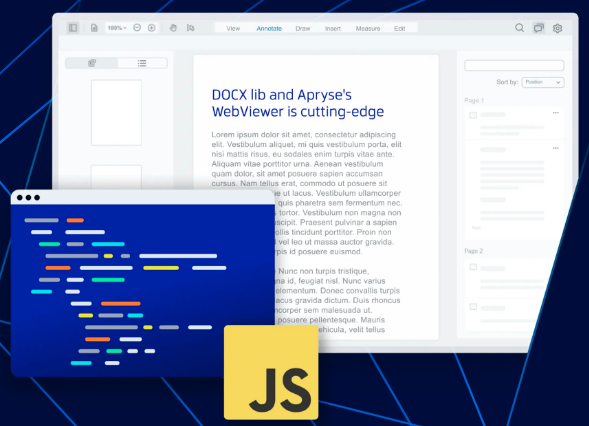 WEBVIEWER ENABLES SUPER FAST TIME TO MARKET (UI OUT OF THE BOX), CUSTOMIZATION CONTROL (CHANGE IT!) AND OPEX/SECURITY (RUNNING IN BROWSER)
FULLY FEATURED OUT OF THE BOX
WebViewer's out-of-the-box UI is used and trusted by thousands of customers, delivering exceptional usability and functionality.
CUSTOMIZABLE TO YOUR NEEDS
Make it your own with complete control over functionality, behavior, and appearance. Reflect your brand and the user experience you want.
SECURE & EFFICIENT
Scale your application and bring processing client-side, eliminating server-side and third-party dependencies. View, edit, and process documents in the browser, delivering a secure and real-time document experience.
ANNOTATION AND COLLABORATION
Choose from 35+ annotations or build custom markup tools. Then, leverage out-of-the-box modules to enable real-time collaboration.
DIGITAL SIGNATURES
Create complete, custom signing workflows, including signature field assignment, signature creation, collection, and validation.
REDACTION
Eliminate confidential information by searching and redacting sensitive keywords, strings, and patterns. Redact areas of images and text, or entire pages.
PAGE MANIPULATION
Add, remove, rearrange, or merge pages easily by clicking or drag-and-drop page thumbnails, or set up a programmatic workflow.
CREATE FORMS
Simplify form filling with features that automate data entry into your database. Fill, edit, and create new forms. Populate data from any source into existing templates.
DOCUMENT GENERATION
Embed a scalable and secure document generator that merges Office templates with JSON data client-side, right in the browser.
COMPARISON
Easily identify changes in drawings and documents with intuitive overlays, side-by-side comparisons, and semantic text differences in highlighted word pairs.
TEXT EDITING
Have users edit PDF text and images in your app with a leading-accuracy editor that embeds directly. Apply or change existing styling or font sizes.
MEASUREMENTS
Streamline estimates via a fast, precise measurement tool. Set drawing scale, and measure distance, area, perimeters, and more with snap-to geometry.
DOCX EDITING
Edit and create DOCX files client-side: Write and edit text, apply styling, adjust fonts and sizes, or add bulleted and numbered lists. Eliminate post-edit formatting inconsistencies with native DOCX editing, producing true WYSIWYG output quality across all Word processors.
Software Sources Ltd is Apryse's reseller.