Ampler overview
Ampler is a brand-new way to adapt Office to you, enabling you to effortlessly achieve professional excellence.
Ampler is the only Office solution you need. Tailored to you, we enable you to create value with revolutionizing efficiency and ease. Build presentations, workbooks, and documents of excellent quality with collaboration across your entire organization, it has never been simpler. Eliminate tediousness and focus on what really matters: Ampler is a whole new way of working!
Optimize value creation with an exceptional Office solution sculpted from your organization's standards and work practices. Achieve perfection with ease and eliminate Office annoyances to take leadership of your work and free up time to spend on what matters most. Bring creativity first and share your graphics and content where it is needed, ensuring perfect visual identity and easy maintenance Adopt a future proof Office solution that builds on your own IT infrastructure and enjoy seamless integration and central management.
Ampler for PowerPoint
PowerPoint work is often a struggle of formatting and creating slides. Ampler lets you tell your story from blank slide to perfect, client ready presentation without the hassle. Features include:
'Agenda' lets you choose from pre-defined agenda layouts, while providing you with ample opportunity for customization, easy sharing of layouts, and instant updating of all agenda pages at once
'Storyboard' helps you build your story line by allowing you to combine slide templates, with complete freedom to edit the structure, taglines and slide selection of your story, greatly simplifying the process and presenting you with a perfect overview.
'Scan & Fix' automatically finds and resolves document inconsistencies to ensure perfect finish, and allows users to flawlessly edited documents, thereby exuding credibility and bring focus to insights, not errors and inconsistencies. 'Scan & Fix' provides this, e.g., by ensuring consistent tab sizes and bullet types, updated references, and perfectly aligned document elements, while also including an expanded grammatical check, deep inspection, and automatic fixes.
'Library' contains premade slides, shapes, stock photos, and icons, allows you to fill in your own to be instantly accessible for your colleagues, and gives you direct access to content on your preferred external platforms such as SharePoint, OneDrive, and Google Drive.
Custom shortcuts and features such as 'Align', 'Distribute', 'Language', and many more minimizes formatting time to let you focus on your core competences.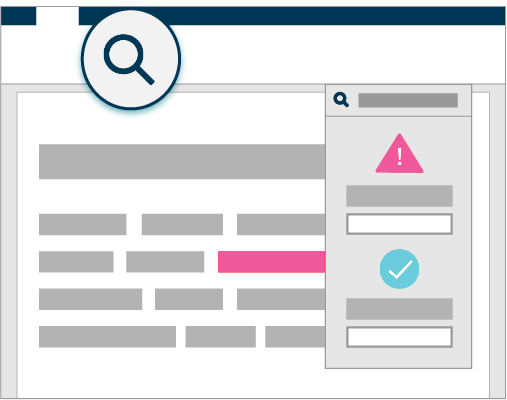 Ampler Charts
An advanced and extensive, yet intuitively simple, add-in for creating beautiful charts in PowerPoint. Apply your own layouts, use decorators, and create specialty charts easily and elegantly. Features include:
Create Gantt charts to outline your project plan. Edit the Gantt directly on the slide or through Excel.
Add decorators such as CAGRs, total differences, level differences and much more.
'Save chart layout' lets you save your favourite chart designs, enabling you to create beautiful charts with a single click.
Ampler for Word
Formatting documents in Word is notoriously complicated and unpredictable. Ampler for Word enables users to flawlessly communicate insights with professional documents. Features include:
'Library' for easy access to all content directly in Word. Content is easily managed, instantly available for colleagues, and can be stored on your preferred platform such as SharePoint, OneDrive, or Google Drive.
'New Document', advanced document templates with a single click. The 'New' function users you direct access to the company's templates for reports, notes, proposals, letters, and other documents, and lets users easily distribute and manage them within Word.
Easy embedding and linking, e.g. of editable PowerPoint illustrations and Excel tables in documents. Word documents often benefit from the insertion of charts and tables (PowerPoint and Excel) elements, but if any alterations are needed re-insertion is usually necessary. With Ampler for Word, users are allowed to edit embedded elements from other Office programs directly in Word or refresh with updates directly from the source, dissolving program boundaries and letting users work fluidly.
And much more, e.g. Quickly access commonly used symbols; Crop pictures into any shape; Use pre-defined placement positions; Add pre-formatted captions, tables and notes to figures; Clean documents of metadata and comments; Email selected text, pages, or entire document, etc.
Ampler for Excel
Excel modelling is often complicated and even small errors can have huge consequences. With Ampler for Excel users enjoy easy modelling, perfect overview of models, and rigorous quality assurance though thorough model- and error-checking. Features include:
'Library' to access ready-to-use models and workbooks.
'Inspect Formulas' and 'Vizualize' features to check the 'inner workings' of any model and discover errors and audit workbooks.
'Scan & Fix' check for the ~30 most common modelling errors, including concealed problems such as pivot tables not reflecting the full table of data, and, when applicable, provides an automatic fix.
And much more, e.g. Apply pre-defined number formats with a single click; Auto-fit column width to a selection; Reverse order of columns or rows; Transpose columns and rows including their formulas; Swap selected cells; Insert CAGR formulas; Single click clean of entire workbook for metadata, formatting, and formulas, etc.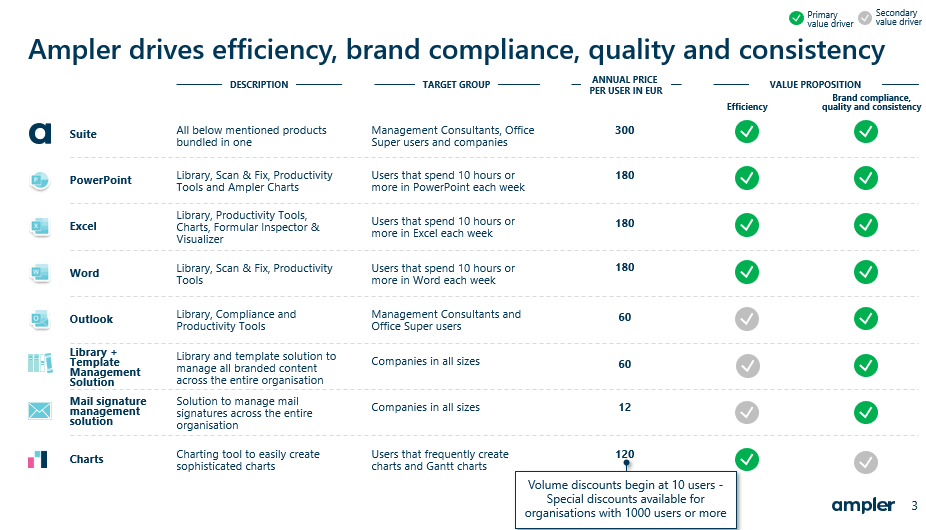 Ampler Library and Template Management Solution
Management of Word, Excel and PowerPoint templates is not straight forward, and companies face numerous difficulties in ensuring employees always use an up-to-date version. Ampler allows for central management of templates and branded content. Document creation is made simpler for employees which increases productivity and saves time while driving brand compliance. Features include:
'Library' contains premade slides, shapes, stock photos, and icons, allows you to fill in your own to be instantly accessible for your colleagues, and gives you direct access to content
'Library' utilizes the existing network drives such as SharePoint, OneDrive, and Google Drive. All within your own security perimeters and provides full control of content and no hosting fees. Network drive read / write access defines what is presented to the users
The search function lets users search file names and text within the content and users can bookmark favourite content and view recently used content
'Library can be set up in three layers:
Personal – Allows the individual user to save content locally
Team – Allows users to share content with a defined group of users
Organisation – Company wide content, normally managed by content managers
External sources such as Digital Assess Management systems can easily be added
Linking option that will prompt users if a newer version of the slide or presentation is available in the library i.e., update number of employees in boiler plate slide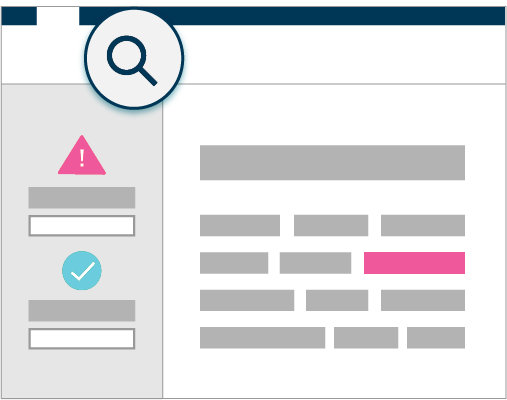 Ampler Mail signature management solution
Management of email signatures are not straight forward, and companies face numerous difficulties in ensuring employees email signatures are consistent and on brand. Ampler mail signature management enable your entire organization to use email signatures that are perfectly branded with the latest colors, fonts, and consistent. Features include:
Easy central management directly from Outlook and functionality to push company wide updates based on the active directory.
Each individual user have an option to use Active Directory data or overwrite i.e., with nicknames, salutation and more.
Functionality to manage campaigns centrally by applying rules based on conditions such as office location, time period, and more.
Everything you need in one toolbar

Software Sources Ltd. is Ampler's Reseller.