Office 365 Management Made Easy
Office 365 Reporting

Office 365 Auditing

Office 365 Usage Analytics

Office 365 Insights
Why Should You Choose AdminDroid?
Rich Reporting Features
Advanced reporting capabilities such as scheduling, export, customizable reports, advanced filters, etc.
One Tool to Rule
A single tool to manage your entire Office 365 infrastructure.
User-friendly
Do complex tasks with few mouse clicks using a simple to use web-based interface.
Non-admin Delegation
Allow non-admins to view reports and statistics.
Easy setup
Easy to set up. No prerequisites to install. No maintenance as the product will automatically update to latest version.
No Maintenance
The inbuilt auto-updating mechanism ensures always the product is up-to-date with security standards and latest features.
Office 365 Insights and Analytics
Bird's eye view of your Office 365 environment. It included statistics of users, licenses, groups, mailboxes, sites, etc.
Save money by efficiently utilizing the purchased office 365 licenses.
Dedicated dashboards for Users, Groups, License, Security, Mail Traffic, Spam & Malware Trend.
Easily dig deeper into provided insights.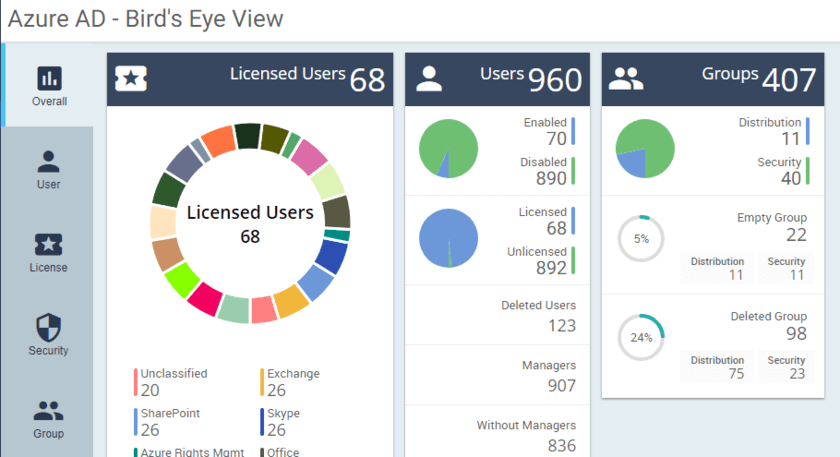 Office 365 Advanced Usage Analytics
Easily measure how various O365 services are used and adopted across department, city, country, job title etc.
Monitor adoption trend, plan training and report your management with meaningful insights.
360-degree visibility of activities and usage across all O365 applications in a single place.
Discover usage trends, activity trends, daily login trends and document sharing activities.
Keep informed about how much activities are occurring, which users are active, what are the top activities, failed activities, etc.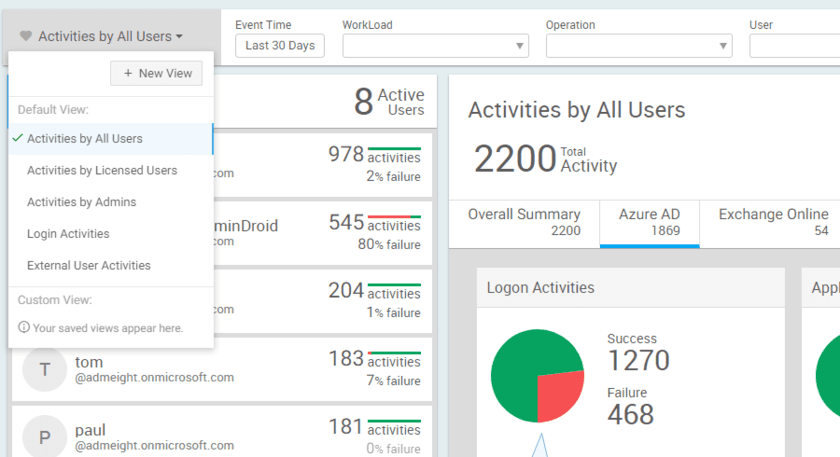 Office 365 Auditing
Monitor each and every activity happening inside your Office 365 environment.
Preserve the audit log information for a long period as per your company compliance policy.
Get clear information about anonymous users, external users, and guest users activities.
Easily monitor failed logins and brute-force attempts. Perform forensic research on compromised accounts.
Keep track of critical activities like anonymous link sharing, non-owner mailbox access.
Pass compliance audits such as HIPAA, SOX, FISMA, ISO 27001, GLBA, FERPA, PCI DSS, NERC, and others.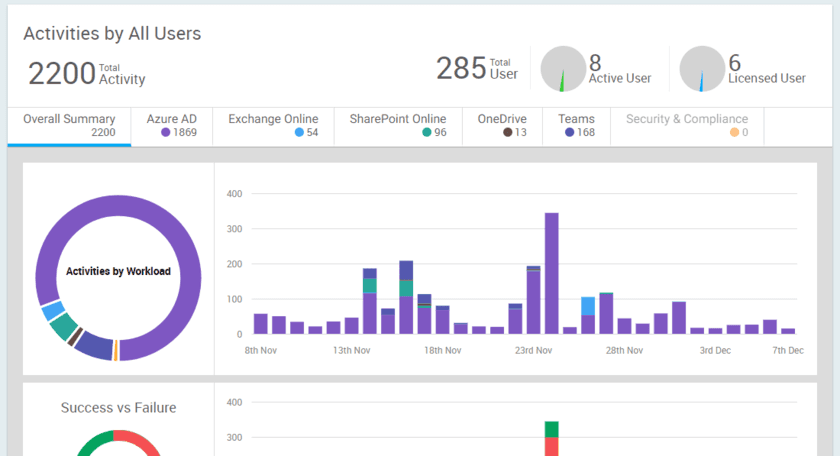 Office 365 Reporting
Provides advanced in-built reports that help to manage your Users, Licenses, Group, Mailbox, Sites, Documents, etc.
Take control of access permission and security settings on various critical Office 365 components like mailboxes, sites, documents etc.
Identify top trending mailboxes, sites, documents, and groups in your organization.
Visualize the internal and outgoing traffic in Exchange mailboxes and SharePoint sites.
Always be up-to-date with near-real-time reports that auto-refreshes at specific intervals.