What we do
We are experts with most of autopilots out there, having in depth knowledge for Micropilot, Kestrel, Mikrokopter, Microdrones, 3DR Pixhawk/APM, DJI A2/Wookong-M/Naza-M V2/Vision+/P3/Inspire/Matrice, Ace One, ArDrone and other autopilots. We can chew in minutes any new one and squeeze the best out of it.
SPH Engineering offers unmanned systems integration services. It includes assistance in selection of airframes, autopilots, payloads for particular application. We can build or acquire necessary parts and carry out proof of concept projects. Our experienced engineers can help with design of the system as well as consult on feasibility of the desired UAV application.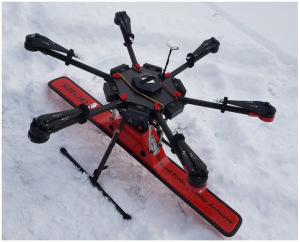 Our experience and activities
Our technological partnerships ensure access to technologies and know-how of other companies. We offer integration of UAV systems with corporate security, monitoring and communication systems.
Custom UAV component development and fine tuning according to customer requirements is possible. Our portfolio includes projects for custom payloads for Lockheed Martin Indago VTOL and other UAVs, custom hand held UAV controllers and similar projects.
We offer custom UAV control software for specific applications and companies. As example Power Line Monitoring, Agriculture, Hydrography, 3D Reconstruction, Mapping an Mining. You name it and we tell you what is best way to approach the task and what equipment will deliver optimal results from price & performance perspective.
Supported drones
Unified mission planner for all popular UAV platforms. Control and monitor one or multiple drones on a single mission, in multi operator mode or multi-platform environment. Ease of integration and adding support for new vehicles or payloads is achieved by modular architecture of UgCS.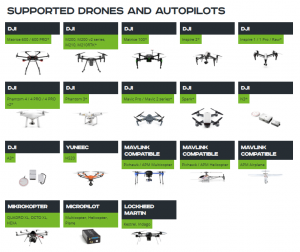 Applications:
UgCS Photogrammetry Technique for UAV Land Surveying Missions
UgCS is easy-to-use software to plan and fly drone survey missions, it supports almost any UAV platform, providing convenient tools for areal and linear surveys and enabling direct drone control. UgCS enables professional land survey mission planning using photogrammetry technique.
Using UgCS to plan magnetic and other low altitude UAV survey missions
Low altitude UAV survey missions require advanced UAV operating skills, reliable equipment, and professional software for mission planning in order to safely collect high-quality data while flying close to the ground. A magnetometer attached to a moving UAV by a long tow cable makes surveys even more challenging.
PV Solar Panel Field Inspection with UgCS
Solar panel fields, like any other artificial infrastructure objects, require periodical inspections. Usually photovoltaic (PV) solar panel field inspection requires use of two sensors – infrared (IR) and daylight cameras, to detect faulty panels which heat up because of connection issues, physical damage or debris.
Drone equipped with thermal camera is the best choice for solar panel field inspection, as in most cases it saves costs compared to manned aviation and saves time compared to visual control with handheld IR camera.
Semi-professional drones with changeable cameras like DJI Inspire can also be used, but this will require double amount of time – to enable survey flight first with daylight camera and then repeat the flight after changing to IR. To minimise time required for inspection usually both sensors (cameras) are used simultaneously requiring a drone with enough lift-off capability.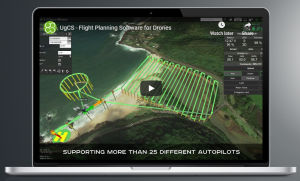 Powerline inspection with UgCS
For the overall surveying industry, including powerline infrastructure inspection – Aerial Unmanned Vehicle (UAV) usage brings vital time and money saving and decreases exposure of staff to dangerous environments.
UgCS provides convenient tools to acquire data of any powerline inspection type to detect:
Concrete basement defects
Insulator overheating
Wire overheating
Wire breaks
Tower mechanical defects
Corridor inspection to detect unauthorized objects or vegetation in secured territory
Wire sag estimation
Corona detection*.
UgCS for Ground Penetrating Radar (GPR) surveys
In most cases, GPR surveys are hard work and can be very dangerous for field personnel due to harsh topographic environments and weather conditions.
This is where drones come into play. They are lightweight (compared to a manned airplane or a helicopter), easily transportable by car and capable of flying autonomously at low altitudes with high precision. Such an approach assures delivery of accurate survey results, is also safer for personnel and more time-efficient.
A GPR mounted on a drone enables to see through the surface of ground, ice, rocks, freshwater, and buildings or through structures at unsafe and hazardous environments without compromising the safety of staff, providing an additional solution for more efficient surveying.
To enable full integration of the radar and drone SPH Engineering has developed a lightweight onboard data logger and the support of GPR for the ground control software for drones – UgCS. The result of the integration – the radar status and its current trace is displayed on the screen of UgCS (see Fig.1); Data logging is started automatically at take-off and finished upon landing.
Software Sources Ltd. is SPH Engineering's Reseller.